---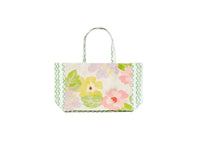 Our Moana Floral Multi tote bag features original artwork by Bonnie printed on soft, durable linen and is perfect for shopping, market hauls or as an everyday carry-all.
The handles and side of the tote bag feature the Double Waves Green printed on white linen.
This tote bag is a generous size.
Material - linen
Size - 47cm x 34cm x 14cm
Colour - multi as pictured
Brand - Bonnie & Neil