---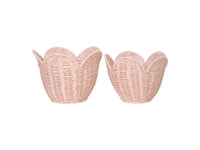 Fill your nursery or play space with flowers with the Rattan Lily Basket Set!
This beautiful nesting pair is designed to hold essentials from cotton balls and toys to dummies, nappy cream and everything in between. As your little one grows, the Lily Set becomes a magical playscape for Holdie Folk, the perfect pencil holder, or a secretive treasure stashing basket. Nest them together or style them separately. 
Material - 100% Natural Rattan, water based paint
Size :
Large height 18cm, diameter across top 22cm, base 12cm. 
Small height 16cm, diameter across top 20cm, base 10cm
Colour - Blush
Age - 3 plus
Brand - Ollie Ella