---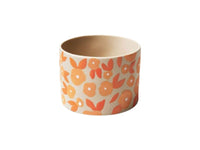 A delightful design of scattered blooms surrounds this mini planter. Sweet pink petals are punctuated with red leaves, making the perfect base for your favourite succulent or small fern. Plant directly into this planter as it has a drainage hole. Team with other planters in this range for a celebration of florals!
Designed in Sydney and handmade in Vietnam by Jones & Co artisans.
Clean with a soft dry cloth, designed for indoor use.
Material - hand painted pottery
Size - diameter 10cm, height 7cm
Colour - pink, red & beige
Brand - Jones & Co