---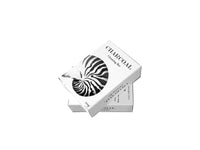 Charcoal Gift Soap.
Gift box features the artwork of Cathy Hamilton (proudly designed & produced in Australia). 

Activated charcoal is great for oily & acne-prone skin. It has the ability to absorb oil and dirt from your pores for clearer skin.

Ingredients - Activated Charcoal, Olive, Caster & Avocado Oils, Coconut, Sunflower, Rice Bran, Shea butter, Lemon Myrtle, Lime & Patchouli Essential Oils.