---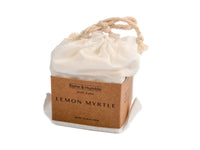 Eco alternative, Lemon Myrtle Dish Soap Cube.
Simply wet your dish brush , rub it over your soap cube and clean your dishes as you would normally.
Soap ingredients : Sodiun Palmate, Sodiun Cocoate, Water, Glycerine, Fragrance, Shea Butter, Sodium Chloride, Palmitic Acid, Edta, Lemon Essential Oil, Myrltle Essential Oil, Ci19140
Your cube should last aproximately 4 months with adequate drainage.
Comes in a muslin drawstring bag.

Material - soap, muslin bag
Size - 7cm x 7cm x 7cm
Colour - off white
Brand - Raine & Humble