---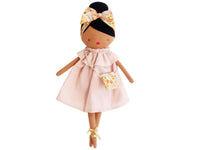 Piper Doll - Pale Pink
Piper is a cute doll featuring a top knot hair style and is perfectly accessorised with her head tie & cross body bag.
Piper has a removable dress & bag, encouraging developmental play.

Through play, children learn about the world and themselves. Playing with dolls helps foster a child's imagination as they encounter creative & imagined scenarios. This kind play encourages children to develop social skills and teaches them how to process emotions such as empathy & compassion. By taking care of their doll they learn how to take care of themselves and others.
Material - cotton, wool, fibre fill. ribbon
Size - height 44cm, width across hips 11cm
Brand - Alimrose
Colour - brown, black, pink, yellow, orange, green
Age - 3 plus