---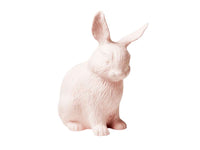 The Bunny Money Box features intricate hand-crafted details in pink bone china with a matte finish.  Jones & Co has always been known for their whimsical yet practical bone china designs.
In this range, they have reimagined classic shapes as practical money boxes.They are designed to be modern heirlooms to keep for years to come and pass down to generations. The perfect blend of rustic charm with a modern, timeless mood.
Perfect for a unisex child's room or a main entryway or sideboard. Pop coins in the slot at the top (and take out via the removable plug at the bottom); or use as an ornament on a shelf or a stack of books.
Designed in Sydney and handmade in the Philippines. Expertly cast moulds are created by the artisan makers, then hand-carved line by line. Each piece is then cast in bone china to form exquisite shapes.
Material - bone china
Size - height 26cm, width 15cm, length from nose to tail 18cm
Colour - pink
Brand - Jones & Co