---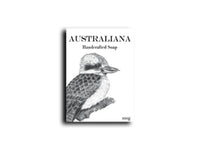 Kookaburra Gift Soap.
Gift box features the artwork of Cathy Hamilton (proudly designed & produced in Australia).

A combination of lemon, lemongrass and lime, with a dash of Australian Lemon Myrtle. Lemon Myrtle has excellent antibacterial properties.
Ingredients - Lemon Myrtle, Essential Oil. Olive, Coconut, Sunflower & Rice Bran Oils, Shea Butter.